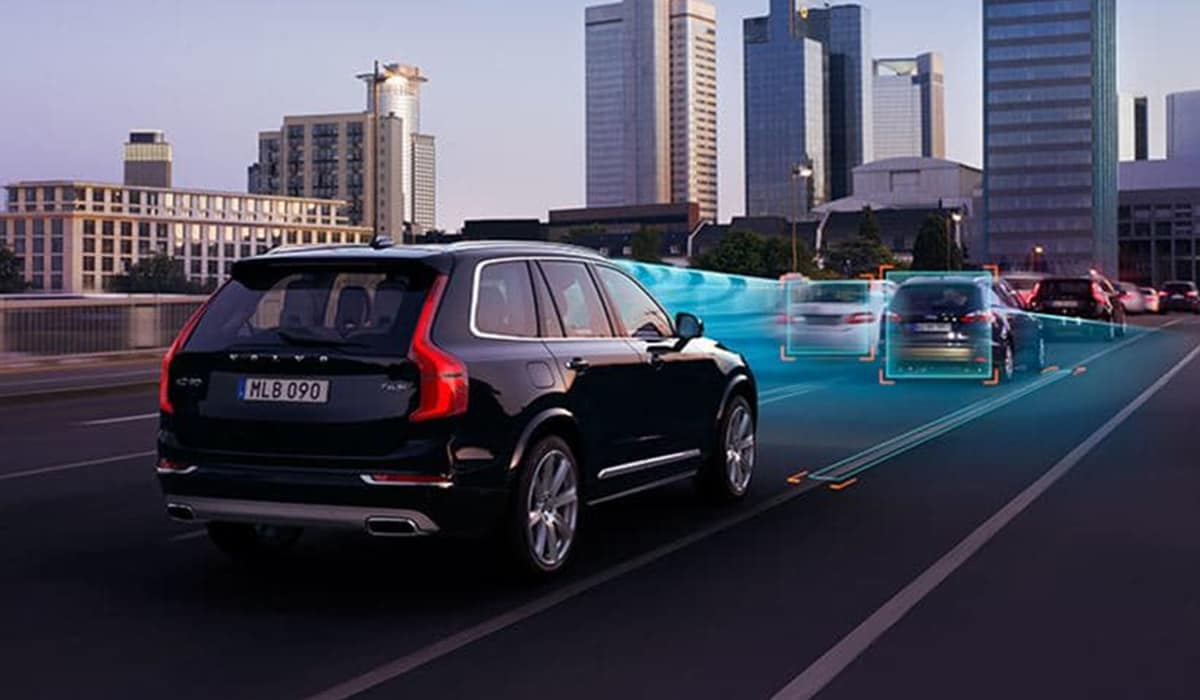 At this point in our automotive history it's fair to say that Volvo cars are synonymous with safe cars. After all it was Volvo engineer Nils Bohlin who invented the three-point seat belt in 1959 and in doing so gave new meaning to driving safety. For decades Volvo has been an innovator in safe driving, and has developed and implemented technologies that not only improve but perfect vehicle safety. So it really came as no surprise when in 2016 Håkan Samuelsson, President and CEO, Volvo Cars announced Volvo's vision for the future: By 2020 no one should be killed or seriously injured in a new Volvo car.
To accomplish this vision, Volvo has developed Volvo IntelliSafe, a suite of active and passive driver assistive technologies that help prevent accidents and protect occupants, as well as pedestrians. Today, let's review a few Volvo IntelliSafe features and how they have made driving Volvo even safer.
Adaptive Cruise Control
This feature automatically maintains a safe distance between your Volvo and the car ahead, which allows for sufficient braking distance in the event of an abrupt stop.
Driver Alert Control
This groundbreaking feature actually monitors your ability to drive. If it suspects that you are dozing off or inattentive at the wheel, then it will alert you to pull over and take a break.
Active High Beam Control
Unlike other vehicles that blast the driver in front of you with blinding LED headlights, Active High Beam Control provides optimal light for you but dims the lights when you approach another vehicle, making the drive down dark roads safer for you and the driver ahead.
Blind Spot Monitoring
Gone are the days of looking over you left shoulder to check your blind spot, or asking a passenger if there's anyone on your right side. Blind Spot Monitoring uses radar sensors to alert you to the traffic you cannot see.
Lane Keeping Assist
We've all done it, bent down to pick up a water bottle or stared at the radio presets for too long and in doing so drifted in our lanes. Lane Keeping Assist corrects these drifts to keep you driving straight and in your lane.
Bird's-eye View
This 360 surround view camera allows you to get a full picture of your surroundings, which aids in parking and maneuvering in tight spaces.
City Safety
Driving in cities can be incredibly stressful. From sharing the road with cyclists to dodging absentminded (phone-gazing) pedestrians, there is simply more to be aware of when driving in an urban environment, which is why Volvo's City Safety technology is so invaluable. City Safety actually detects stationary and in-motion cyclists, pedestrians, and large animals (should there be a moose in the city). City Safety will not only alert you to their presence if it anticipates a collision but will brake automatically if a rapid response is needed.
Pedestrian Airbag
Always taking safety one step farther, in addition to its interior airbags Volvo's pedestrian airbag deploys from the exterior of the vehicle to cover the windshield, which in the event of a collision will lessen pedestrian impact and injury.
And last but not least…
NEW Safety Belt Technology
Volvo took Nils Bohlin three-point safety belt and gave it superpowers. Volvo's latest electrically retractable seat belt and unique seat structure are designed to keep your spine from being compressed in a rough landing by absorbing vertical loads.
For more information about Volvo IntelliSafe, stop by Volvo Cars Walnut Creek and speak with a member of our Volvo Walnut Creek sales team. We'd be happy to set you up with a test drive in a new Volvo model, one that includes the latest Volvo safety technologies so you can experience them in action. As a recognized leader in Volvo sales in the East Bay Area, our Volvo sales team is always eager to share the latest and the greatest from Volvo.