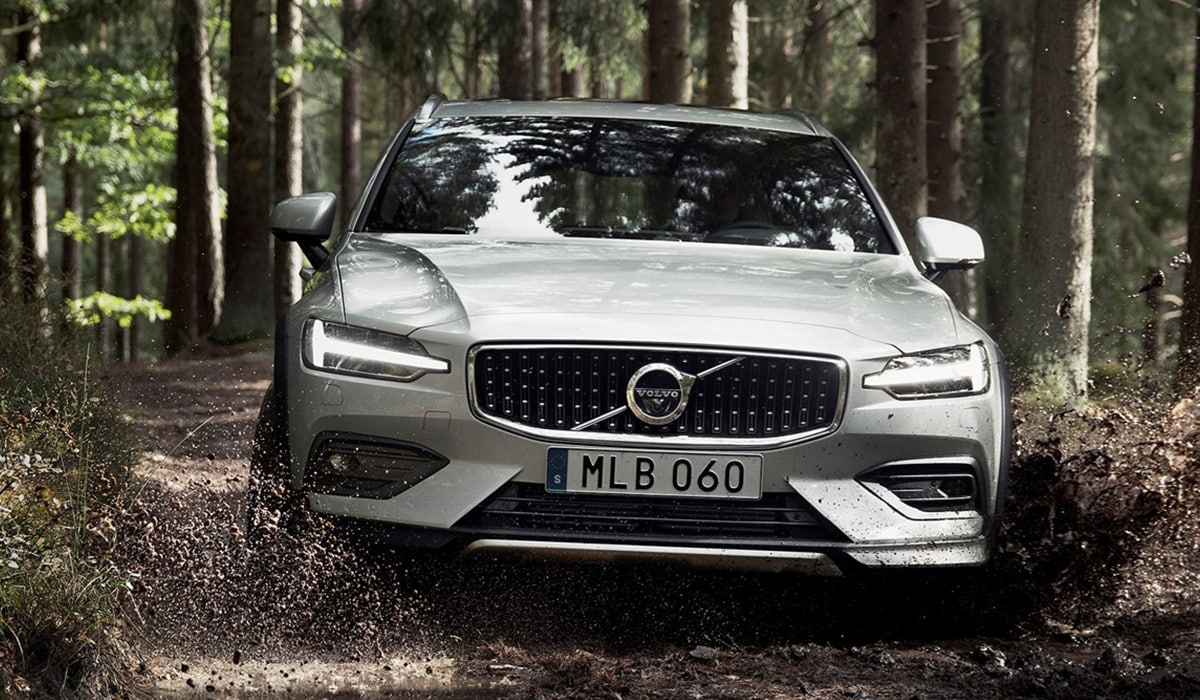 Whether as a driver or passenger, sitting in the driveway or out on the road, the 2019 Volvo V60 Cross Country is the type of car you look forward to being in. It's relaxing, comfortable, and safe. It's equipped for all-weather driving and well-suited for long commutes. It's a luxurious 5-door, 5-passenger, mid-size, all-road estate (aka station wagon). It's an ideal family car and perfect for those looking to break free from the style of the crossover SUV but retain that level of superior driving capability. Let's review.
Interior
Borrowing heavily from its larger sibling the V90, the interior of the V60 Cross Country is first rate, in fact it's nearly indistinguishable from the V90. It comes with standard leather seats (with a soft leather option), a large 9.0-inch touch screen, stitched-leather inserts, and beautiful wood trim with metallic accents. It's insanely quiet and dreamily comfortable. The primary difference is size. When it comes to rear cargo room, the V60 offers 23 cubic feet of space compared to the V90's 26 cubic feet.
And for those of you looking for something a little different, the V60 Cross Country includes a no cost option to add City Weave textile interior to the seats and doors. The City Weave cloth inserts are unique finishing touches that add a welcoming charm to an already beautiful interior.
Connectivity
Thanks to Volvo's connectivity and infotainment system Sensus, the V60 Cross Country's 9.0-inch touch screen is intuitive, easy to use, and packed with desirable features. The V60 Cross Country touchscreen combines car functions, navigation, connected services and in-car entertainment applications, including Spotify, Pandora, Baidu or TuneIn, as well as available Apple CarPlay and Android Auto smartphone integration.
Capability
The Volvo V60 Cross Country comes with standard all-wheel drive, hill descent control, and an off-road driving mode. All of that combined with the added 3 inches of height it has over the regular V60, means there's no reason to shy away from a little extra dirt on the road.
Safety
Discussing safety when reviewing Volvo seems redundant but the safety and driver assistive technologies in new Volvo models deserve to be mentioned. Volvo's Scalable Product Architecture (SPA) is the advanced modular product platform underpinning all Volvos in the 90 and 60 Series. Because of its integration of boron steel, which is four times stronger than average high-strength steel, Volvo cars with the SPA platform are some of the strongest Volvo cars to date.
In addition to the security provided by the V60 Cross Country's SPA platform, standard on all Volvo models is Volvo's City Safety technology, a driver assistive technology that combines collision avoidance systems with automatic braking, and the only safety system that detects pedestrians, cyclists and large animals.
To learn more about the 2019 Volvo V60 Cross Country, including its arrival date and information on how to pre-order, please call or visit our Volvo Cars Walnut Creak dealership. Just ask to speak to a member of our Volvo sales team and they'll connect you to everything you need to know about Volvo's latest luxury leader.