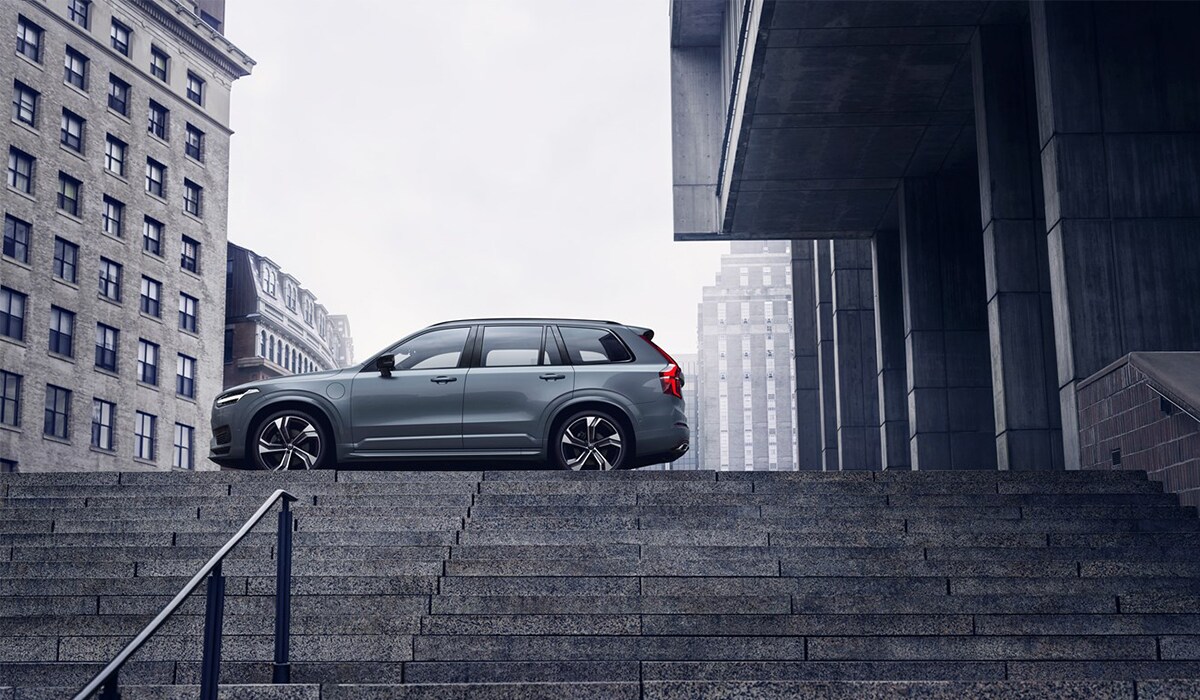 Refreshed and ready for its close-up, the 2020 Volvo XC90 returns with greater fuel efficiency, more seating configurations, and the latest technologies. If you're looking for a safe, family friendly vehicle that does not compromise on style and fun, then don't pass by the 2020 Volvo XC90.
Greater Fuel Efficiency
Volvo's best-selling XC90 is a full-sized luxury SUV that has satisfied drivers at every turn, and now satisfies them at the pump. The new XC90 offers an electric powertrain option that delivers up to 15 per cent fuel savings and emission reductions due in part to its advanced braking system. Marking yet another achievement in Volvo's commitment to an all-electric automotive future, featured on the 2020 Volvo XC90 is an advanced kinetic energy recovery braking system, which recovers kinetic energy while braking thereby reducing fuel consumption and emissions. With the T8 e-AWD Plug-In Hybrid, the XC90 provides drivers up to 62 MPGe.
More Seating Configurations
Four, six, seven? How many seats do you want? With the 2020 XC90 the choice is yours. From the top-of-the-line, four-seat Excellence trim to the seven-seater variants, which now feature a brand new six-seat option, drivers of the XC90 will enjoy the flexibility of having a vehicle that matches their lifestyle.
Whether outfitted for four or seven, the cabin of the Volvo XC90 remains open and spacious. In fact, the second and third row of seats are slightly elevated just like theater seating so backseat passengers can enjoy a clear view of the road ahead. To free up space for more cargo, all seats fold flat. Plus, all second row seats slide and recline to accommodate the passenger's individual preference and the third row features class-leading legroom. Oh, and one more thing, all seats are available with massage and ventilation functions.
Latest Technologies
The Volvo XC90 was the first Volvo to offer Apple CarPlay and now it also offers Android Auto integration. Drivers will be delighted to learn the new XC90 features the updated Sensus infotainment system with a 9" touchscreen designed with a special coating to reduce glare. Plus, it's so responsive you can use it while wearing gloves.
An integrated Spotify music streaming service is also available, which is nice considering the sound options in the XC90 are bar none. XC90 drivers may choose the range topping Bowers & Wilkins sound system with (ahem) 19 speakers including a subwoofer that actually draws in outside air to deliver a richer, deeper bass; and, offers three distinct performance modes—Studio, Individual Stage, and Gothenburg Concert Hall. Or, drivers may select the 14-speaker Harmon Kardon Premium Sound system that allows the volume to be individually monitored and adjusted, so everyone hears the best possible sound. Plus, it provides Automatic Level Adjustment to even out the varying intensity of a recording. In short, the XC90 takes singing in the car to a whole new level.
And, when it comes to enhanced safety technology, the Volvo XC90 does not drop a beat. The XC90 now offers both the Blind Spot Information System and City Safety with Autobrake, which is still the only system on the market with the ability to recognize pedestrians, cyclists, and large animals. The XC90 also features an Oncoming Lane Mitigation system and Cross Traffic Alert technology now with Autobrake.
Sales of the XC90 won't begin until later this year, however, we are accepting pre-orders. For more information or to place your XC90 order, stop by our Volvo Walnut Creek dealership or give us a call today. We'd be happy to answer any questions you may have about the refreshed XC90 and help you select the trim and powertrain that's right for you. When it comes to Volvos in the East Bay area, there's no place like Volvo Cars Walnut Creek.