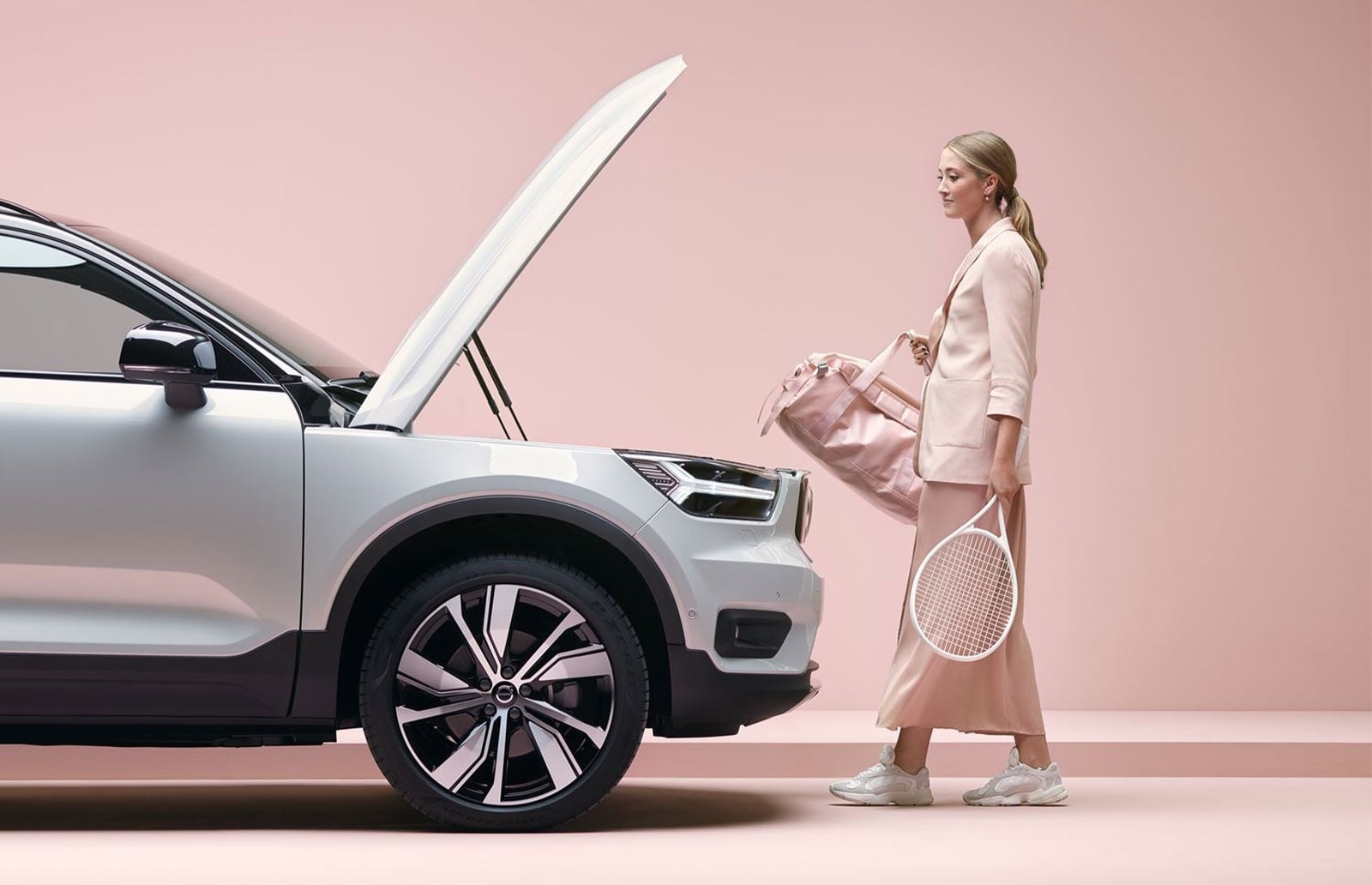 Enter the Volvo XC40 Recharge, the first pure electric SUV from Volvo and just the beginning in their pledge to make half of their lineup fully electric by 2025. Nearly indistinguishable from the gas-powered Volvo XC40, the XC40 Recharge boasts 402 horsepower and a speedy 0-60 mph in 4.7 seconds. You'll be able to travel over 200 miles in one charge* and charge the battery to 80% in about 40 minutes**.
Not one to skimp on style, functionality or safety, Volvo pulled out all the stops with the XC40 Recharge. Features include:

Top-of-the-line infotainment system with Google connectivity
Made from sustainable materials, including interior carpeting made entirely of recycled plastic!
Smart storage solutions
Advanced Driver Assistance System
Pilot Assist
BLIS blind spot warning with steer assist
Key fob fitted with theft prevention technology
Zero emissions!
Another innovative feature of the Volvo XC40 Recharge is the ability to use Car Sharing. With the Volvo On Call app you can share your vehicle with friends or family for a set amount of time. Simply invite them via your phone and they will be able to gain access to the car and drive it for as long as you allow. You'll also be able to track the charging levels, lock or unlock the car and heat or cool your car ahead of time with remote start. Great if you need to share carpooling duties or just want to lend someone a hand!
All of Volvo's electric vehicles will utilize Volvo pure electric technology. Using dual 150kW/300Nm electric motors, Volvo's electric fleet will have a nearly silent drive with instant torque to give you quick acceleration and a smooth ride. In the XC40 Recharge, a large 78 kWh battery allows you to travel up to 230 miles and recharge quickly whether at home or on the go. Opt for the Volvo Cars Wallbox for the fastest charging - about 5.5 hours from 0 - 80% charge - or use 150 kW DC charging stations to go from 10% to 80% charge in just 40 minutes. If you just need a bit of juice while out and about, you can still get about 50 miles range in 10 minutes of charging time! And no need to worry about changing the battery, the estimated lifespan of the Volvo XC40 Recharge battery is 10-15 years, or up to 187,000 miles of driving. The Volvo Warranty is 78% energy retention after 8 years or 100,000 miles, whichever comes first, which is similar to gas powered vehicle warranties.

Volvo is known for the safety of their vehicles and have no fear, the XC40 Recharge is no exception. The XC40 Recharge is the first Volvo to use the new Advanced Driver Assistance System (ADAS) which utilizes a variety of cameras, ultrasonic sensors and radar. Cameras give you a 360 degree view so you can tackle any parking space with ease. Cross traffic alert ensures you can stop for any approaching vehicles when backing out. Volvo's intelligent driver assist technology helps detect and avoid collisions, whether with another car, pedestrians, cyclists or whatever might cross your path. The XC40 Recharge's advanced body structure protects you and your passengers in the event of a collision. Plus, the electric battery is housed in a safety cage creating a 'crumple zone' to protect the battery from harm upon impact.

The new Volvo XC40 is just the beginning of the Volvo pure electric revolution. With ample passenger room, smart storage space, innovative technology and driver assist features encased in Volvo's renowned safety system, the XC40 Recharge isn't just another EV. It is at the cutting edge of electric driving technology that will take you farther on absolutely zero emissions in a vehicle that is head turning, in the best way. Because you shouldn't have to compromise on style and comfort when you choose a vehicle that is kinder to the environment.

Head to Volvo Cars Walnut Creek to learn more about the new Volvo XC40 Recharge and Volvo pure electric technology, and find out how you can reserve yours today to be the first to own one when they arrive later this year. Our premier Volvo dealership is conveniently located in the heart of the East Bay Area in sunny Walnut Creek, CA. Stop by for socially distanced sales and service or give us a call at 888-675-8845 to get all your safety and Volvo questions answered.
*Range according to the realistic WLTP and EPA driving cycles under controlled conditions for a new vehicle. Real-world range may vary. Figures are based on preliminary target. Final vehicle certification pending.
**Please note: Charging times will vary and are dependent on factors such as outdoor temperature, current battery temperature, charging equipment, battery condition and car condition.