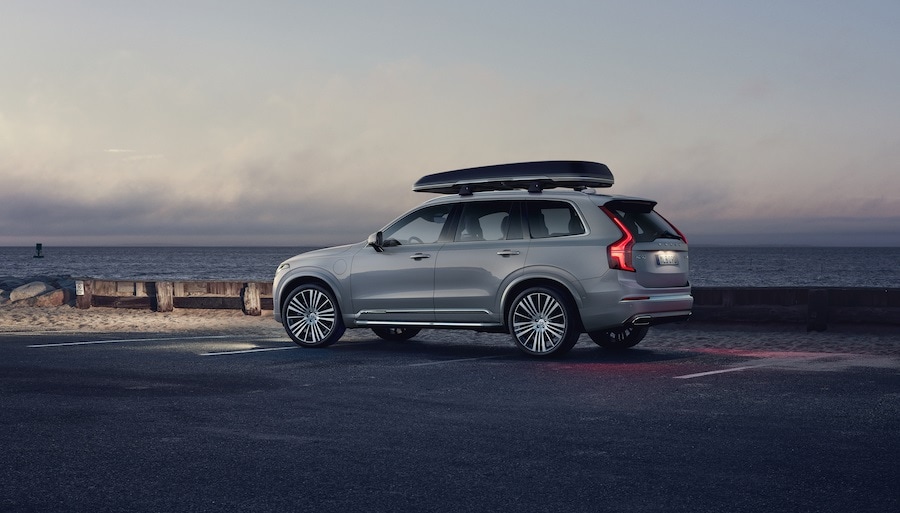 Enjoy Freedom with the 2020 Volvo XC90
These days, it's not enough for an SUV to do the bare minimum. With so many options available, you deserve more than metal on four wheels. The 2020 Volvo XC90 Hybrid goes above and beyond with its Scandinavian elegance and cutting-edge technology. At Volvo Cars Walnut Creek, we serve Concord, CA, and beyond by carrying an impressive selection of new Volvo XC90 Hybrid models.
Explore the exciting features and capabilities of the new XC90 Hybrid to see if it's right for your daily driving in the Antioch, CA, area.
Interior
The style of the 2020 Volvo XC90 is best described as elegant and sleek. This car has a sporty design that also manages to look refined and elegant. From its chiseled exterior to its diamond-cut air vents and contoured leather seats, the 2020 Volvo XC90 is brimming with sophistication.
As for the interior of the Volvo XC90, it is specially designed to be comfortable and convenient. With the capacity to seat up to seven people comfortably and the option for massage seats, the Volvo XC90 is an exceptional luxury SUV.
The interior of this vehicle also features available Dark Flame Birch Wood Inlays, Heated Front Seats, and Power Seat Cushion Extensions for the driver.
Performance
Style isn't the only category in which this Volvo shines. The performance of this vehicle is impressive too. With the T8 e-AWD Plug-In Hybrid, you can drive with confidence knowing your impact on the environment can be a positive one. Not only is the XC90 Hybrid efficient, but it's powerful with up to 400 horsepower and 472 pound-feet of torque.
You can drive your daily commute in the Volvo XC90 with reduced emissions and even an all-electric driving range. For those of you in the Brentwood, CA, area conscious of how your lifestyle impacts the environment, this vehicle may be the perfect one for you.
The Volvo XC90 is an all-wheel drive vehicle and has an eight-speed automatic Geartronic® transmission. The XC90 also comes with Drive Mode Settings and Start/Stop Technology.
Safety
The are plenty of safety features in the Volvo XC90. These include the standard driver and passenger airbags, child safety locks, a Blind Spot Monitor, Lane Departure Warning, Cross-Traffic Alert, Electronic Stability Control, Traction Control, Lane Keeping Assist, and Active High beam.
What's New for 2020?
If you're familiar with past iterations of this vehicle, then you may notice some new features and design elements in this upgraded 2020 version. The exterior of the 2020 Volvo XC90 Hybrid has been slightly refreshed from past exterior designs of this car. This 2020 version also has a new suspension calibration that works to provide a smoother and more comfortable ride.
Also, new with the 2020 Volvo XC90 Hybrid is the option for six seats rather than seven. This option is available for the T6 and T8 Inscription and Momentum models.
The T8 Plug-In Hybrid has an increased range for trips with your electric motor. This means a smaller negative impact on the environment as you can go longer without any gas emissions into the atmosphere.
Technology
A car is more than a means to get you to point A to point B. For many, it is also considered to be a primary source for entertainment and connecting with others. The idea of cars being a symbol of freedom is one that has existed for a long time, and a part of this freedom includes the ability to escape on an adventure. That's where entertainment comes in.
While driving on the road to your destinations, you may want to listen to music or other audio. The Volvo XC90 Hybrid offers premium sound that any audiophile can appreciate.
The XC90 Hybrid offers both Apple CarPlay® and Android Auto™. No longer do you have to take your eyes off the road to answer calls or messages. Your voice is enough.
Come to Our Volvo Dealership in Walnut Creek, CA
Test drive a 2020 XC90 Hybrid at Volvo Cars Walnut Creek. Our team is ready to help.
Hours
Monday

9:00 AM to 6:00 PM

Tuesday

9:00 AM to 6:00 PM

Wednesday

9:00 AM to 6:00 PM

Thursday

9:00 AM to 6:00 PM

Friday

9:00 AM to 6:00 PM

Saturday

10:00 AM to 6:00 PM

Sunday

11:00 AM to 5:00 PM